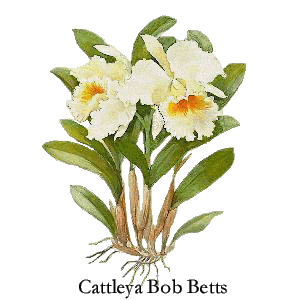 WHAT IS THE LONDON ORCHID SOCIETY?
The London Orchid Society was formed in 1976 to promote the cultivation of orchids.

In addition to an annual spring show, the Society holds meetings on the third Sunday of each month from September through June.
The September through May meetings are held at Richards Memorial United Church - 360 Edgeworth Avenue - London, Ontario. The meetings begin at 2:00 p.m. but the doors are usually open sometime between 1:00 p.m. and 1:30 p.m. for setup and socializing.
The June meeting may be a tour of some member's homes to see how they grow their orchids with the tour being followed by a pot luck supper at the last home, or a tour of an orchid nursery.
Each regular meeting features some aspect of orchid growing. Meetings also include displays of blooming orchids, a raffle, refreshments and friendly socializing about orchids. Plants can also be purchased from local growers and other members.

Other Society benefits include a monthly newsletter, a summer picnic, field trips to commercial orchid nurseries, exhibits of members' plants in other shows around the region, a library, and open houses at members homes to show others their orchid-growing environments.

Annual dues are only $20 single or $25 for a family.
COME JOIN US AT OUR NEXT MEETING AND ENJOY GROWING ORCHIDS IN YOUR HOME!
---
This page last updated: December 21, 2009
This site last updated: November 22, 2023